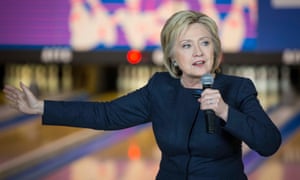 At a town hall meeting this week, the first question posed to Hillary Clinton was from a first-time caucus-goer called Taylor Gipple.
"It feels like there are a lot of young people like myself who are very passionate supporters of Bernie Sanders," he said. "And, I just don't see the same enthusiasm from younger people for you. In fact, I've heard from quite a few people my age that they think you're dishonest, but I'd like to hear from you on why you feel the enthusiasm isn't there."
Clinton's response sounded like a mix of Edith Piaf and Sir Elton John: Je Ne Regrette Rien blended with I'm Still Standing; stern resolve with a touch of telegraphed theatricality. "Look, I've been around a long time," she told him. "They throw all this stuff at me and I'm still standing. But if you're new to politics, if it's the first time you really paid attention, you go 'oh my gosh, look at all of this'. And you have to say to yourself, 'why are they throwing all of that'? Well, I'll tell you why. Because I've been on the frontlines of change and progress since I was your age."
Not for the first time, Clinton finds herself in an existential battle with a rank outsider – Bernie Sanders cast in the role of Barack Obama – which threatens to derail her anticipated processional journey to the White House. Her experience and ever-presence on the public stage seem to be equal parts hindrance and help.