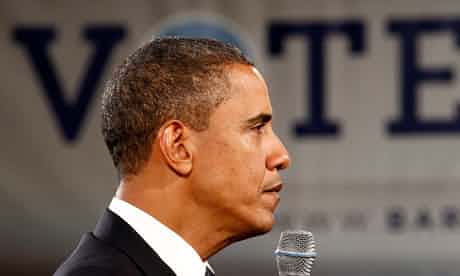 Barack Obama's most loyal base
Wednesday 27th October 2010,
Photograph: Kevin Lamarque/Reuters
If the economy really were the sole and overriding factor shaping the outcome of the midterms, then Democrats would be in far more trouble than they are. For the group that has suffered most economically under the nation's first black president is also the group they depend on most to get elected – black people.
When Barack Obama was elected, black unemployment stood at 11.1%; today, it stands at 16.1%. That's still roughly twice the rate of white unemployment. But then you might add the fact that black Americans were far more likely to be hit by the foreclosure crisis, and one could argue that they have relatively little to show for having elected a black president beyond… well, having a black president.
This frustration was laid bare in September when Velma Hart, a black woman, challenged him at a town meeting, saying:
"I'm exhausted. I'm exhausted of defending you, defending your administration, defending the mantle of change that I voted for, and deeply disappointed with where we are right now."
African Americans clearly don't see it that way. Around 97% voted for Obama in 2008 and, for all the talk of individual defections to the Tea Party movement, they remain the most loyal to Democrats and the most supportive of Obama of any racial or ethnic group. When Obama came to Las Vegas on Friday, merchants were still doing a brisk business with a largely black crowd in T-shirts comparing the president to Martin Luther King and offering hope, progress and change in big letters. The issue is whether they will make that support count on Tuesday.
Earlier in the year, pundits believed that they wouldn't. True, 2008 saw an unprecedented turnout of black voters on election day – the first time that black turnout, as a percentage, had exceeded that of whites. But they were voting for Obama, not Democrats. And since there is insufficient evidence of Democrat achievements trickling down to their communities, many would stay home. Moreover, during midterms, when turnout is generally lower all round, the gap between black and white turnout usually grows.
Since then, however, polls have shown a considerable shift in interest and engagement. This is, in no small part, because Democrats are spending much more money than previously to get out the black vote. Obama has also been openly courting black voters in a bid to rally the only part of his base that he can still really rely on.
But also, just as has been the case with Latinos, those associated with Republicans may have goaded them into action with attacks on Obama's religion and birthplace. Because most of the outreach towards black voters takes place in racially discrete areas – radio stations and newspapers overwhelmingly used by the black community – as well as through churches, much of these efforts takes place beyond the sight of the mainstream media and other commentators. This could be the Democrats' only counterpoint to the "intensity" gap enjoyed by the Republicans: a significant part of their base is still – two years after the presidential election – fired up and ready to go.
One survey, by the Washington Post, the Henry J Kaiser Family Foundation and Harvard University, revealed that 80% of black Democrats are as interested or more interested in elections this year as they were in 2008. Moreover, a report for the Joint Centre for Political and Economic Studies says there are historical parallels for a sustained high black turnout this year. In 1986, two years after Jesse Jackson made his first run for the presidency, the gap between white and black turnout shrank; the same happened in 1998 when, the report claims, black voters came out to support a besieged Bill Clinton.
Whether, where and how this matters, however, is a different question. Since large numbers of US house districts are gerrymandered, the black vote in house races is likely to be decisive in just a few places, many of which are in the south. Even so, as the number of toss-up seats increases, the importance of shoring up such a reliable base becomes greater.
In the senate, there are three states – Pennsylvania, Illinois and Nevada – where blacks make up at least 10% of the electorate and Obama received 95%, 96% and 94% of the black vote respectively, and where they could make a difference.
In the senate, the black vote could be the difference between a cliffhanger and comfortable victory for the Republicans; in the house, it could be the difference between merely a defeat for the Democrats and a total rout.
© Gary Younge. All Rights reserved, site built with
tlc