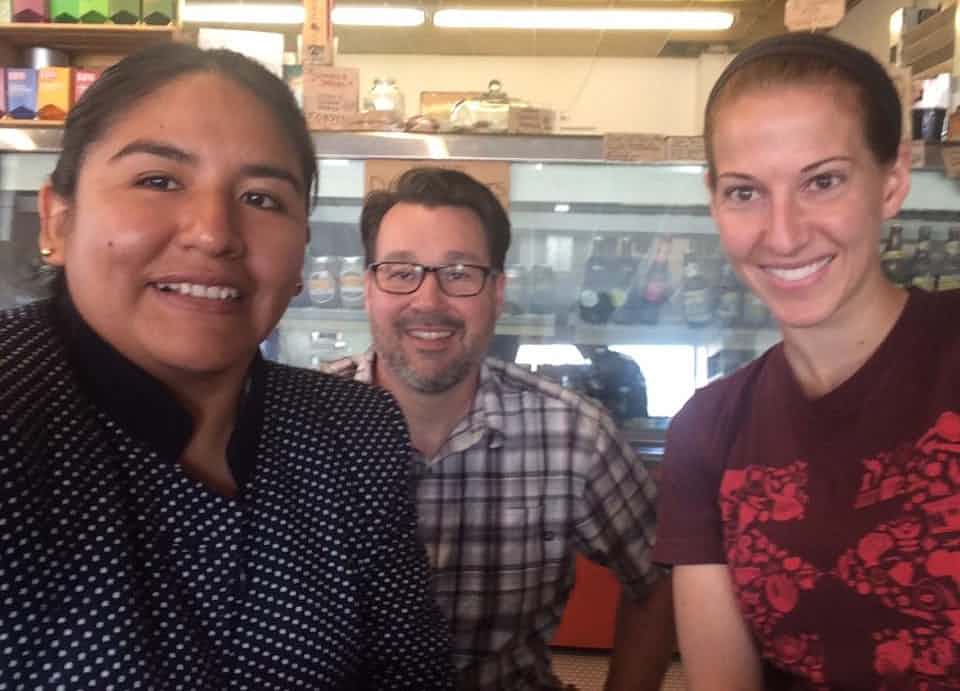 The view from Middletown: For Bernie Sanders supporters, a vote for Clinton does not come easy
Thursday 20th October 2016,
(c) with Rachel Dana (r) from Equal Exchange and Angela Caquegua (l) who visited the Downtown Farm Stand from Bolivia this month. Angela is part of the Young Leaders of The Americas Initiative which is an Obama Administration program thr
In the autumn of 2011, not long after protestors took over New York's Zuccotti Park, a demonstration of less than a hundred marched through the rain in a small midwestern town to inaugurate Occupy Muncie. After a unanimous show of jazz hands they chose to set up a small encampment near City Hall.
"The rest of the town probably didn't know we were there," said a veteran local campaigner who was involved but reluctant to give her name because, she says, "Others have done so much more."
"Some people did, and would shout "Get a job!" But I thought it was worth it because something was happening in NYC and it might eventually happen across the nation."
Four years later the wildfire that was the Bernie Sanders campaign started to spread across the country. In Muncie, people could feel its heat from afar. A campaign office for the leftwing congressman opened up in town with a full-time staff member, Trevor Bernardo. "The response did surprise me," says Bernardo, the lead field officer for the Sanders campaign. "By that stage, the campaign was in full force and the unions had been very active here before, so I knew there was potential. But I expected it to be very tough. I didn't think people would be that receptive. He said he was a democratic socialist. That's not what most politicians talk about."
Bit by bit, the sceptical became committed and the committed became active. "I think many people thought 'there's a lot wrong in this country [and] I would like to start to change that'," said the campaigner who helped start Occupy Muncie. "And they saw other people feeling the same way that they didn't know about and thought, 'Oh My!' During this last year – after almost two decades of living in this Red State – I have begun to see the social progress here in Muncie that I have long dreamed of."
Thanks to its union heft, big industry and machine politics, Muncie was once known as 'Little Chicago'. The Hillary Clinton campaign took over the local Democratic office, thereby effectively ensconcing her as the establishment candidate. "They traditionally have a very solid network of precinct committeemen who tell people who to vote for, basically," said Dave Ring, who runs the Downtown Farmstand organic food store and deli (which has Cubano paninis to die for). But that didn't work this time. The primary in May coincided almost precisely with the start of an FBI investigation into the local Democratic-run city council over conflicts of interest.
We've been asking Muncie residents to help guide and shape this series – two contributors, Bob and Bryan, let me know about Farmstand. Another local reader, Timothy Fowler, suggested I meet Morgan Aprill of the Progressive Student Alliance. Aprill, 23, grew up on a dairy farm in a small town with conservative, religious parents (many of the young people I spoke to have parents who are voting for Donald Trump, although Aprill says her parents won't be) and here she was canvassing for a revolution on the south side of town, the poor white side of town, where she had not spent much time before. "I thought I'd be shouted at for being a scummy liberal," she said. "But most everyone I talked to was already planning to vote for him."
Ring was not surprised that support grew. "I think people here understand inequality," he said. He is fourth generation Muncie. Both his grandfathers worked at the BorgWarner car plant, which is now closed. "And they understand the trade issue. People know what killed their jobs and that was Nafta [the North American Free Trade Agreement]. And not only did it kill our jobs here but it exploited people elsewhere and I think people are starting to understand how multinational corporations work. They move the jobs where there's people they can exploit. So I think people were able to hear his message and I think he put it out in a very cogent way."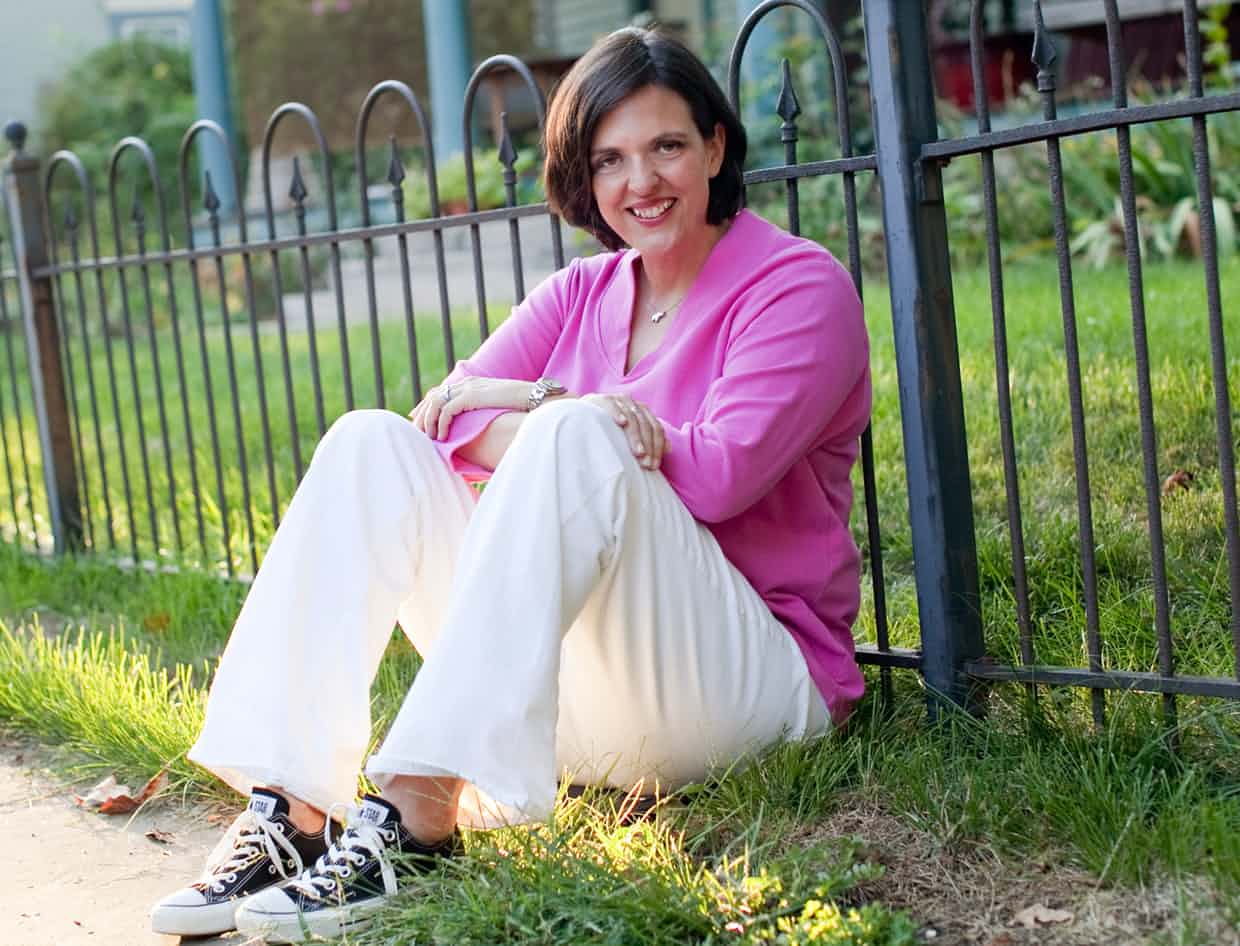 By 3 May when the Indiana primary took place, Clinton had all but claimed victory nationally. The week before, she had won Connecticut, Delaware, Maryland and Pennsylvania. Sanders won just Rhode Island, the smallest state in the union. But he caused an upset in Indiana, taking the state 52.7%-47.3% and Delaware County 55.7%-44.3%. People assign his victory in Muncie to the large student population at Ball State University. It's true that statewide his victory was largely thanks to winning the under-40s with wide margins and losing older groups more narrowly. He also did well with men, whites, the well-off and Independents. Bernardo says it would be a mistake to put it down to just students. "He did well in neighbouring counties where there was no university – 95% of the volunteers doing the phone banking came from the community at large."
Another reader, Cathy Day, a professor at the university, was one of them. Day, 48, had started following Sanders after she saw him filibuster Obama's tax cut compromise in 2010. Like Day, for many people I've met this is very personal. This was her first campaign. "My dad worked on the railroad and the story Bernie was telling about working class people struck a chord with me," she said. "My parents remortgaged their home many times to put three kids and my mum through college and then lost everything in 2008. All of that work they put in and they're left with nothing."
In 2008 when I covered the election from Roanoke, Virginia, I saw a lot of people inspired by the Obama campaign who either ceased being active or whose energies were dissipated once the election was over. Some Sanders supporters may have gone back to doing what they were doing before or are now spectating, but there are opportunities to stay active. Sanders has set up Our Revolution to keep the campaign for a more progressive America going now that he has conceded, which Ring has some involvement in. The extension of the movement provoked some national disillusionment, however, at the notion of a top-down grassroots organisation.
At the university, the Sanders campaign transformed into the Progressive Student Alliance, with which Aprill is involved, which is now concentrating on the UnKoch My Campus campaign to protest the Koch brothers' plan to fund an Institute for Entrepreneurship and Free Enterprise at Ball State. At a table by the refectory on Tuesday the Progressive Student Alliance provided leaflets calling on students to oppose the influence of the Kochs on campus. "About half have heard of them. People are quite receptive. It picks up around lunch time," said Daniel Wills, explaining why things were so quiet when I dropped by.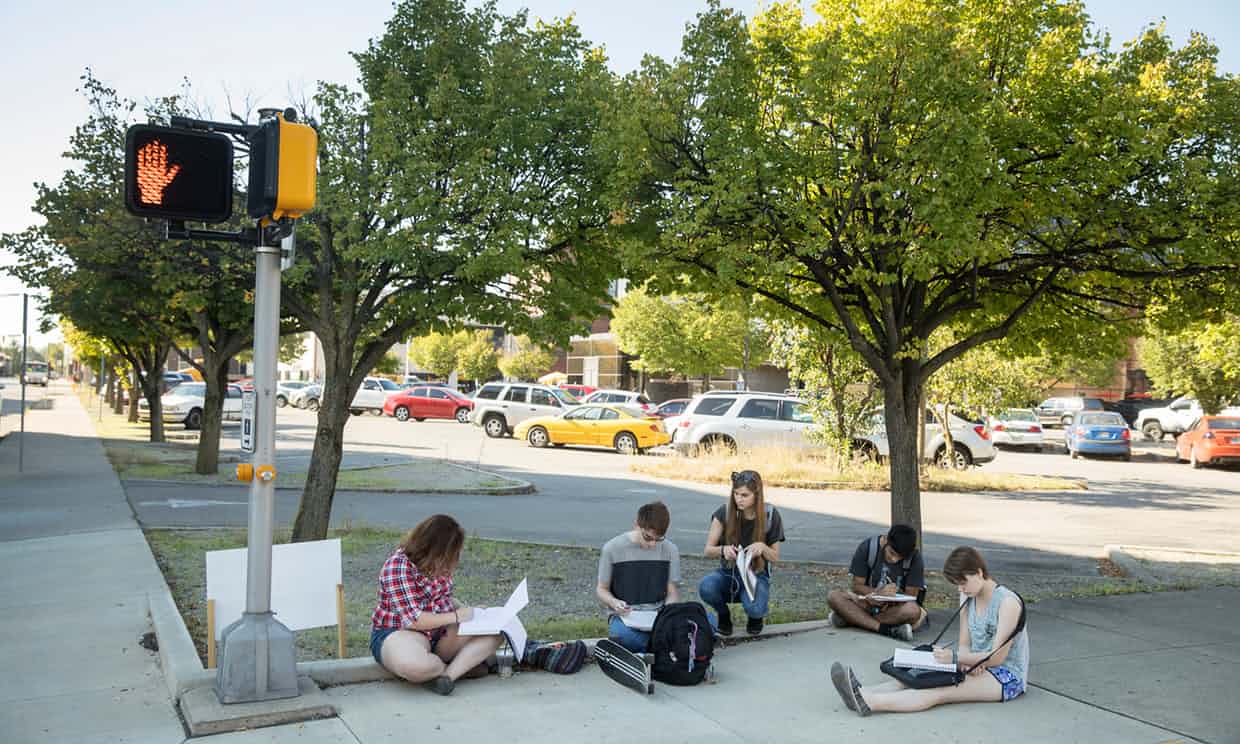 In the meantime there's the election. Day plans to vote for Clinton, but cannot bring herself to put a "Clinton" yard sign out, even though she has signs for every other Democratic candidate in state and local elections. Ring will vote for Clinton too, as will Silas, 29, with whom I watched the first debate at the Fickle Peach. "I agree with her on 80% of everything. I think I agree with Trump on almost nothing apart from how you spell America." This is the view of most people that I spoke to. But by no means all.

Aprill is going to vote for the Green candidate Jill Stein. "I just don't trust the Democratic establishment ... The fear-mongering is the tactic of the two parties that's been used for decades to keep people in line. I think the two parties represent different flavours of the same thing which is a elite rich, wealthy class that rules our whole country. And I think it's pretty apparent by things that happened since the recession that we need more parties in our country to have an actual democracy."
Indiana has been a reliably Republican state. But Obama did take it narrowly in 2008. And with Trump tanking nationally in the polls, it could be closer than usual. In the Senate and governor's races in the state, Aprill is voting for Democratic candidates with less progressive records than Clinton's because the contests are close. One gets the feeling she could be persuaded to back Clinton. But not easily.
Todd Smekens, publisher of progressive midwestern media outlet, MuncieVoice, voted for Sanders and will now vote for Stein. "As a progressive, the big issues for me are war, climate and the economy. I'm not signing on for candidates who aren't going to do anything about those things. The job of the electorate is to assess the problem and then vote for the best candidates to deal with the problems. It's not my job to bail out the Democratic party. The Democrats keep making out like where everything is OK and it's not. Nobody's buying it."
Said the veteran campaigner who braved the elements to sustain Occupy Muncie: "During this last year – after almost two decades of living in this Red State – I have begun to see the social progress here in Muncie that I have long dreamed of."
Main photography: David Levene
© Gary Younge. All Rights reserved, site built with
tlc