Don't let the Windrush outrage die while the scandal continues
Thursday 20th September 2018,
Illustration: Nate Kitch.
They call it "the scandal". And in Bethel church in Bristol, two independent advisers to the Home Office called on those who had been blighted by it to testify. Sitting in front of a sign that read "Moving forward – together in faith" and a union flag propped alongside a Jamaican flag, they appealed to the orphans of empire to share details of how the place their parents had referred to as the "Mother Country" had abandoned them. In a tone owing more to bewilderment than belligerence, they stepped up.
There was the man, brought to Britain from Jamaica at 18 months by his parents, who was denied a provisional driving licence because he couldn't prove he was British. "I contacted my MP and they said it sounded like an immigration issue," he said. "And I thought how could it be, when I've never been out of the country." And the man who came from Jamaica 50 years ago when he was 13, and has great-grandchildren here, who found himself in prison on remand following a mental breakdown. All of the charges against him were dropped but his application for citizenship was denied anyway because he had been in prison. And the man with 12 children who came as a seven-year-old and was too focused on work to worry about the citizenship he assumed he already had who now finds himself in limbo. "Where does that leave me now?" he asked.
While there is truth here – and in time for some compensation – there is no reconciliation
Parsing the fine legal strands on which their fate hung, they asked: "What is the difference between naturalisation and citizenship?" and were told the British passports on which they arrived may have carried fewer rights because they bore the words: "Citizen of the United Kingdom and Colonies."
"All that we went through," said the man who came as an infant, and spent the last decade shuttling from law centres to advice centres as a citizen without status and an immigrant who had never left the country, "we didn't have to go through."
The Windrush Learning Review sessions that are taking place throughout the country are consultative events aimed at informing an independent review and helping to frame a compensation scheme. But they bear some resemblance to a truth and reconciliation commission. The testimony of ordinary people to state malpractice; the revelations of egregious injustices that were hidden in plain sight; the reckoning that today's "scandal" was yesterday's official policy; the distressing individual stories made possible by wilful institutional neglect.
Were it not for the fact that the participants need the option of anonymity, the hearings should be televised. For it is in the unmediated bearing of witness of these Britons that the human cost of a malicious immigration policy might be more fully understood. It should be televised because the people who need to see it – those for whom immigrants are faceless, threatening figures without family, ambition or story – were not there. Because while there is truth here – and in time for some compensation – there is no reconciliation.
Historically, Britain has not reconciled itself to its colonial past and its consequent current obligations. Politically, it has not reconciled itself to the racism in its immigration laws and practices that made this scandal possible. But more urgently the government has failed to fully reconcile itself to the ongoing scandal, the true scale of which is only now beginning to become apparent. The country has moved on from its embrace of the "worthy immigrants" in April, during which the Windrush generation were elevated to the status of a national treasure, and the outrage that such things could happen. The immigration debate, if we can call it that, has reverted to caps, labour shortages, skills and numbers, as though the lessons of Windrush never happened. Meanwhile, many in the Windrush generation cannot move on because they have literally been stuck where their mistreatment left them.
The day before the Bristol hearings Sarah O'Connor died in Dagenham, east London. O'Connor came to Britain when she was six. She attended primary school and secondary school, married a Briton, worked and raised four children over 51 years. After she was wrongly decreed an illegal immigrant, she lost her right to benefits and had to rely on her daughter to live. In July, after "the scandal" broke, she was finally recognised as British at a naturalisation ceremony. But right up until her untimely death she was still dealing with a notice to leave from her landlord, lack of work and difficulty finding a new house as a result of what the government had done to her.
At a hearing in Brent, London, George Poleon, 65, who arrived in Britain from St Lucia as a teenager in 1968, said he was living in a charity hostel, unable to work, claim benefits or open a bank account and therefore struggling to access his pension because he had still not been classified as a British national.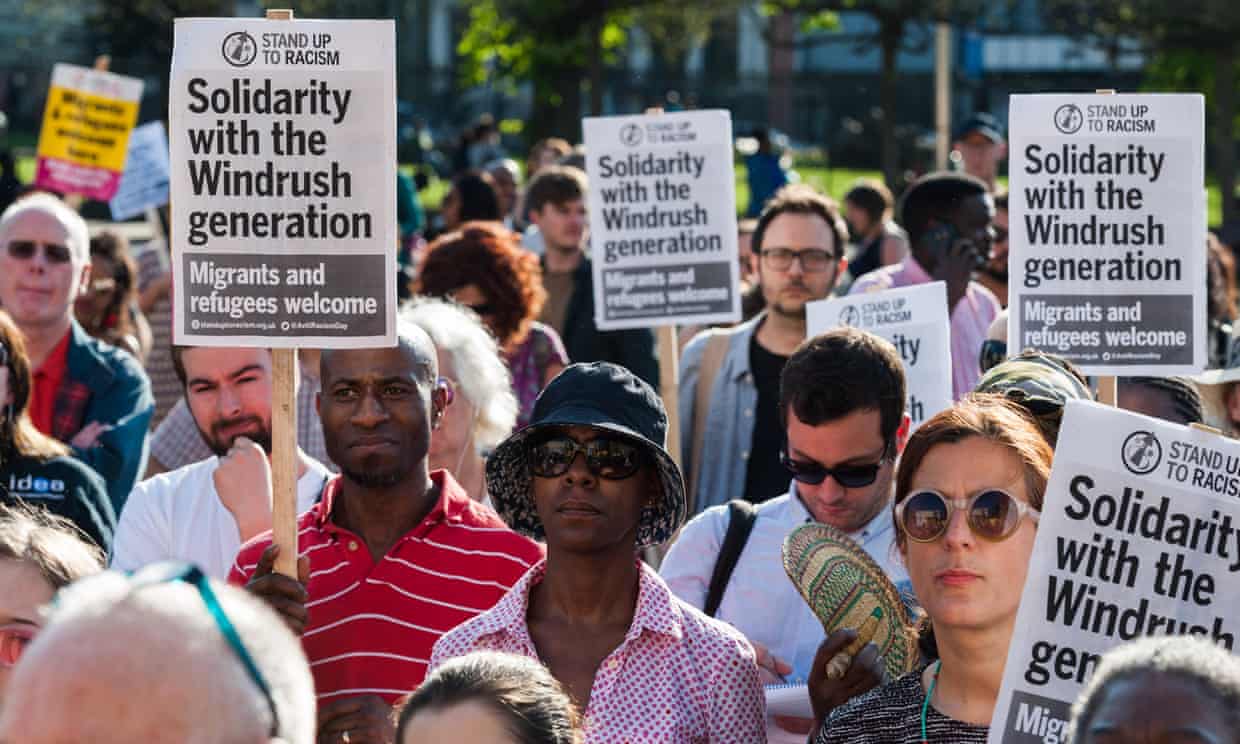 The government now concedes that it either deported – or wrongly refused the right to return – 83 people who had the right to be in Britain. According to the Jamaican foreign minister, three of those have already died. Others are living in virtual destitution in countries where they don't know anybody. "If I ever end up accidentally going to hell," said Vernon Vanriel, who has been trapped in Jamaica for the last 13 years, penniless, after he was refused re-entry to Britain, where he lived for 43 years since he was six. "I'll be well prepared for it from the experience I have had here."
Then there are 32 who have committed serious offences. The home secretary, Sajid Javid, said he does not want them back. That is no less scandalous than any of the others and shows he still doesn't get it. They're either citizens or they're not. The punishment for crime is prison, community service or a fine. Unless Javid wants to take us back to the 19th century, it's not deportation.
Many of these cases the government is now addressing. But it's not doing so out of the goodness of its heart. It's doing so because politically it had no choice. In the words of the abolitionist Frederick Douglass: "Power concedes nothing without a demand. It never has and it never will." These hearings, reversals in decisions and potential compensation are the product of public pressure. How well these people are treated now, how much support they are given in the short term, who is allowed back and on what terms, is contingent on that pressure remaining firm.
My colleague Amelia Gentleman wrote about these cases for six months before either the Home Office or the public at large recognised them for the scandal they are. Amber Rudd resigned as home secretary and changes were made. Having lost its innocence about how immigrants are treated once, let's not wait another six months so the nation can find it and lose it again.
• Gary Younge is editor-at-large for the Guardian
© Gary Younge. All Rights reserved, site built with
tlc